The H1 detector at HERA
The H1 detector is a multiple purpose high energy physics experiment detector consisting of multiple subdetectors and components used for tagging and identifying the properties of elementary particles produced in lepton hadron collisions at the HERA collider facility.

To get more information on the various subsystems use the links below or if you are not so familiar click on the picture of the H1 detector below to get more information on the subsystem you have chosen.

Note that some pages are for internal use by collaborators only. Those links are marked by a red lock ().

For first time general information on the H1 detector look here.


Exit frames

Trigger
Calorimetry
Tracking detectors
muon system
luminosity system
Data Quality meetings
Drawings of the detector, subdetectors and accelerators
Run Summaries and Messages
The figure below is a clickable image !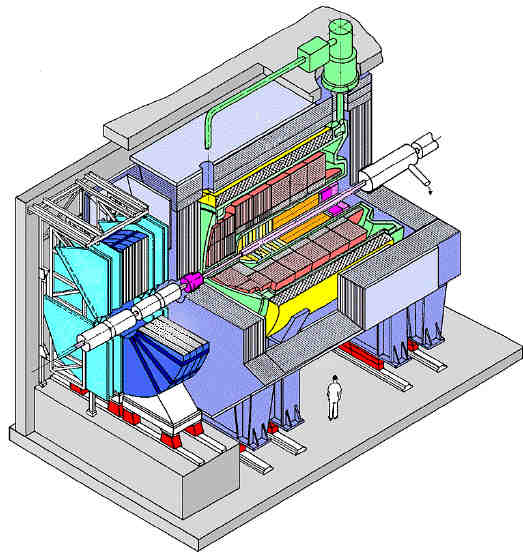 Please note that due to the physical size of some subcomponents you will not be able to reach them via this map, refer to the direct links in the table above.
Your need for information is not yet satisfied?
Look at the detector design paper

Access to the H1 detector paper (text as ps-files, pictures as gif and ps-files) Internal Report DESY-H1-96-01 March 96 (updated version of Report DESY 93-103). The report is published in Nucl. Instr. and Meth. A386, 1997 (in 2 parts pages:) 310-347 and 348-396.
last modified by the H1 Webmaster (helper) on Oct 11, 2002