CENTRAL JET CHAMBER (CJC)
---

Back to H1 Tracker Page

The Tracking Hypernews

Who is the CJC Expert on Call ?
---
The CJC Home Page contains the following sections
(information marked by is only accesible for H1 users):
---
Information on CJC Status
---
Shift instructions
CJC Expert on call
There is a CJC expert on duty to assist the shift crew. Click here to get the name and phone numbers of this person.
---
Operational conditions
---
Technical data and tables
Contains some POSTSCRIPT files with detailed information.
Still missing
Wire specs, Tensions and grav.sag, distribution of material ...
---
Field calculation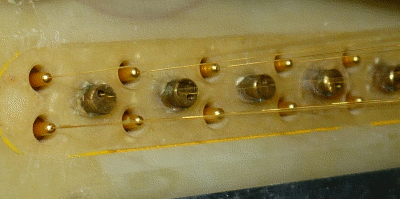 From the positions, diameters and voltages of the (anode and potential (see picture), cathode and field) wires the electrostatic field in the chamber can be calculated. With a parametrization of the drift velocity as a function of the field strength one can track (charges) outwards from the anodes to calculate isochrones (lines of equal drift times, dimensions in cm):
---
Backside views from shutdown 99/00: 1 2
---
Publications
---
CJC Glossary
not yet exsiting
---

Exit frames here.
---
Last update on Feb 25, 2009 by
C. Kleinwort